About Us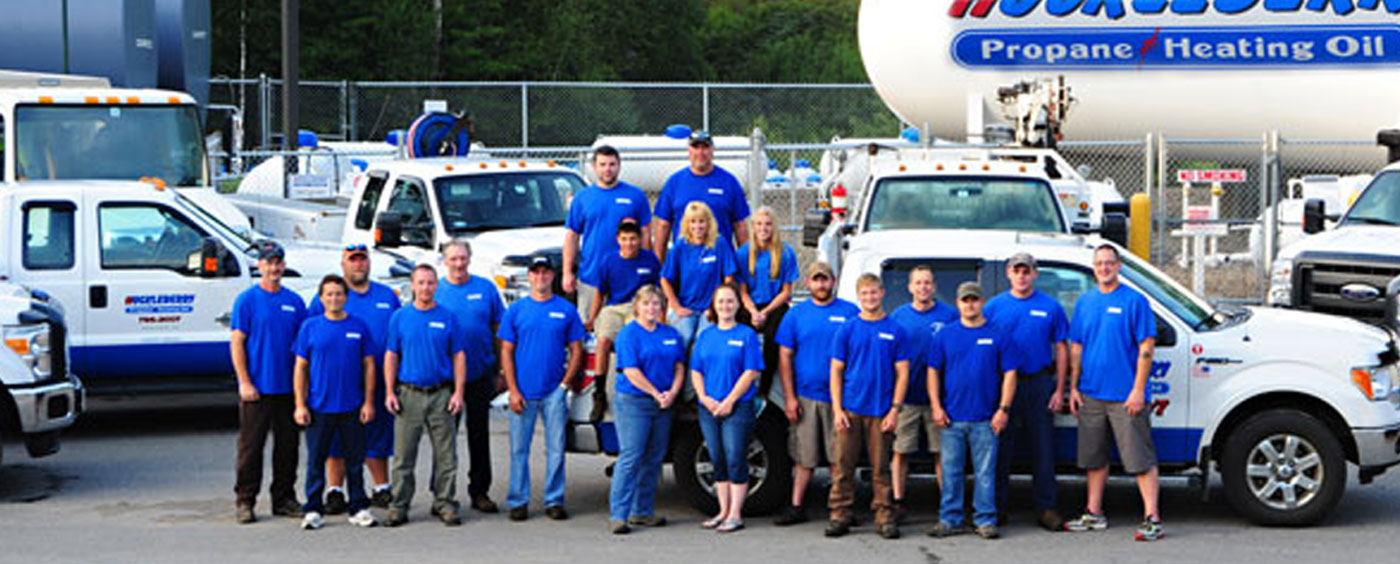 David J. Huckins, President/Owner of Huckleberry Propane and Oil, LLC, will tell you that if you want to succeed in business, "You have to be passionate about what you do.  You need to work harder than your employees and treat your employees better than yourself.  The reason why my business is successful," Dave says, "is because of the employees that work for me.  It is my responsibility to make sure they have a safe, comfortable and rewarding environment to work in."
When Dave was in high school, he spent summers working at Pittsfield Gas & Oil for Raymond Cummings. After Ray sold the business to Eastern Propane, Dave stayed on the job, working for Eastern while he was in college. Even after graduating summa cum laude from St. Joseph's College in Windham, Maine, with a major in Accounting and a minor in Computer Science, Dave continued to work in the oil and propane industry, and was trained as a driver and service technician. Dave is also a licensed gas fitter, a gold certified oil technician, and he holds several other certificates.
While working as a district manager for another company, Dave had developed a large following of family and friends. One day a customer asked, "Why don't you start your own business, because you treat me like you own the company anyways?" Dave went home that night, talked to his wife Tracy – who Dave describes as his "wonderful wife" – and they decided to give it a try. Between Tracy's work as a Certified Public Accountant and Dave's own education and experience in the oil and propane business, they felt they had what it would take to succeed.
"A startup company in this industry requires financial stability and backing," Dave says. "We had neither entering this business, as I started this company with two truck loans and cashing in my retirement plan. Let's just say, this was petty cash to the companies in my area, but this was everything I had acquired in my life to start the company." Although it might have seemed like a bold move to some, Dave was confident. "I knew with hard work, treating customers the way I want to be treated and treating any future employees better than I treat myself, I would be successful."
When they started out, the full-time staff included Dave and his cousin Jake (who is now the Service Manager). About three years later, Dave's wife Tracy joined Huckleberry full-time. The company now employs nineteen full-time and four seasonal employees working out of two locations, the main office in Boscawen and their truck and fuel storage facility on Chichester Road in Loudon. Dave purchased the Loudon property from Ray Cummings, who Dave describes as his mentor. "Raymond answered all my questions and was available anytime for me to talk to him." Ray passed away some years ago, and Dave says he still misses their conversations and Ray's guidance.
Dave says he loves seeing the progression of the business through the years and is grateful to see the business grow every year, knowing it means that people trust them. He is delighted that his own children have taken an interest in the company and may join the business when they finish their educations. He also takes great pride in what Huckleberry has meant to the community. "I also love seeing the many things we sponsor or donate to," Dave says. "Baseball, Basketball, Soccer and various organizations with our name on the jersey means a lot. I do it because I want to, and love seeing better opportunities for everyone in our community." Dave also donates a large portion of his building at 30 Chichester Road to the Loudon Food Pantry. "Raymond Cummings started this donation of the space to them when he owned the building.  When I purchased the property from Raymond, I felt the need to continue with his donation.  The food pantry has grown substantially in the past few years and I opened up more space for them to operate in."
Dave also is a proud supporter of other local businesses, and feels strongly about the responsibility that businesses have to support the communities where they operate. "I feel it's very important to give back to the community in which you do business if you are able to.  I love that I can purchase products locally," Dave says. "One thing you don't see is the large corporations donating to all our youth organizations, advertising in local papers, giving to different organizations or donating their own time.  Therefore, I don't like buying from large organizations if I don't have to.  I would rather go talk with a neighbor and purchase eggs from them or other different products, than go to a large chain store.  The Town of Loudon has so many great small businesses and people in it, that I would rather go purchase from them and talk to them than go anywhere else."
Dave says that he purchased the Loudon property because it already had an approved bulk fuel facility. Since then, he has fixed up the existing buildings, removed the gas pumps and tanks, installed two 30,000 gallon propane tanks, and added a garage. In the process, he has worked with all of Loudon's boards and Town departments, and praises them for their "professionalism and common sense." Huckleberry is now in the final stages of getting approval to install a bulk storage facility in Wilmot, NH, which will triple their storage capacity. The Wilmot location is strategically located and will allow for further growth of the company, since the Loudon facility is already at maximum capacity.
Huckleberry's company slogan is, "Local, honest and committed to keeping you warm". That approach applies not only to his customers, but to his employees as well. Dave will tell you, "I say to all my employees, 'You don't live to work, you work to live.' We are a family owned company and all my employees mean the world to me."
Dave says that keeping up with changes in laws and regulations is the greatest challenge he faces in owning and operating his business. Nevertheless, the Huckleberry business philosophy means going above and beyond what's required. "For instance," Dave says, "we are one of a few companies in the State that has licensed oil technicians.  As it is not code or law in the State of NH, I felt the need for us to acquire this was important, and would set us apart from my competition."
Huckleberry Propane and Oil, LLC, delivers #2 heating oil, propane, kerosene, as well as on-road and off-road diesel fuel deliveries to their customers. They also operate a full heating service department, with installation of hot air furnaces, water boilers, water heaters, generators and space heaters. Huckleberry has been in business for sixteen years, and has operated its Loudon location for fourteen years. Huckleberry Propane and Oil, LLC, has its main office at 166 King Street in Boscawen, NH. Their plant (Storage Facility/Truck Location) is located at 30 Chichester Road in Loudon. The office is open from 8:00 am to 4:30 pm Monday thru Friday.  While the company has residential, commercial and business customers, 95% of their business is residential. They provide emergency service 24/7, 365 days a year. They are available at 603-796-2007, toll free at 1-866-300-4995, fax 603-796-2049 or by email at info@huckleberryheating.com"
Sadly, David Huckins passed away in 2017 after a hard fought battle against cancer.  His driving force and enthusiasm for Huckleberry Propane & Oil continues on.
Huckleberry Propane & Oil is a family run business and we are a work "family".  The Huckleberry family is now lead by Tracy Huckins, Dave's wife.  She is an equally enthusiastic driving force to ensure our level of customer satisfaction continues.  Tracy has been in the business since her high school days as well.  A Loudon native she also worked for Ray Cummings in the office.  She graduated Magna Cum Laude from St. Joseph's in accounting and earned her Certified Public Accounting license.  Working for a CPA Firm for several years before moving into a CFO position at a large New Hampshire construction company.  When her evenings became too busy working for Huckleberry she was "hired" by Dave to run the office.  Tracy has maintained the philosophy that we are always earning our customer's business every day.
The Huckleberry journey continues every day and we look forward to having you join the Huckleberry family, whether you need one delivery a year or one per week.  Tracy and the entire Huckleberry Family want to earn your business and we look forward to that opportunity.